Tear Strip tapes are also called tear tape,tear strip or tear-off ribbon,is some kind of single side narrow adhesive tape applicated in outer packaging fast-open.The backing of the tear tape is often polymer such as polypropylene,yarns,filament,polyethylene terephthalate.We use pressure sensitive adhesive or heat-activated adhesive to compose the tear tape adhesive system.Tear strip tape is usually used on paper,plastic film,paperboard or corrugated fiberboard out packaging by being attached to their inner surface.Many common non-durable fast-moving consumer goods needs this kind of fast moving,such as cigarettes and cigars,soft drinks,groceries or toiletries.Tear Strip tapes are also seen on paperboard express/courier envelopes and corrugated boxes,this kind of application need more wide and thick backing.Tear strip tape leave an extra guide part on the tear are,users can easily find and tear it to expose the inner products.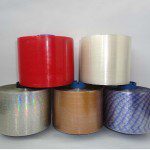 Tear strip tape,in years of developing,has multiplied different types according to different materials,features and applications.
Materials
BOPP,PET,MOPP,OPE;
Features
1.Normal tear strip tapes.This kind of tear strip tape is the most common tape made up of polymer backing and self adhesive,they are used to open outer packaging of drinks,paperboard boxes,courier boxes,cigarettes,pokers,food,medicine,stationary,CDs and so on.They can be many color in the customers wish.
2.Shrink tear strip tapes.On the base of common tear tape,this kind of tape use heat-shrink feature polymer film as the backings.Strips shrink when heated by air so that the outer packaging can be smooth and no wrinkles to keep their out look good.
3.Anti-fake tear strip tapes.By using our single special teconology of Holography,hollow out,micro words,multy-material and multy-colors print or some of them to make the products' packaging unique and hard to fake.This kind of tear strip tape is used to protect product ownership and seperate it from others.
Applications
Different products should choose different tapes.Normally,plastic film packaging use thin tapes and paperboard packaging use thick tapes so that they will not break when pulling.
Sizes
Width:2mm*5000m,2.5mm*5000m,3mm*5000m,3.5mm*4000m,4mm*5000m,5mm*2000m.And also we can make reasonable width and length as you wish.
Colors 
Red,transparent,white,blue,gold,silver,words printing and other customized design.